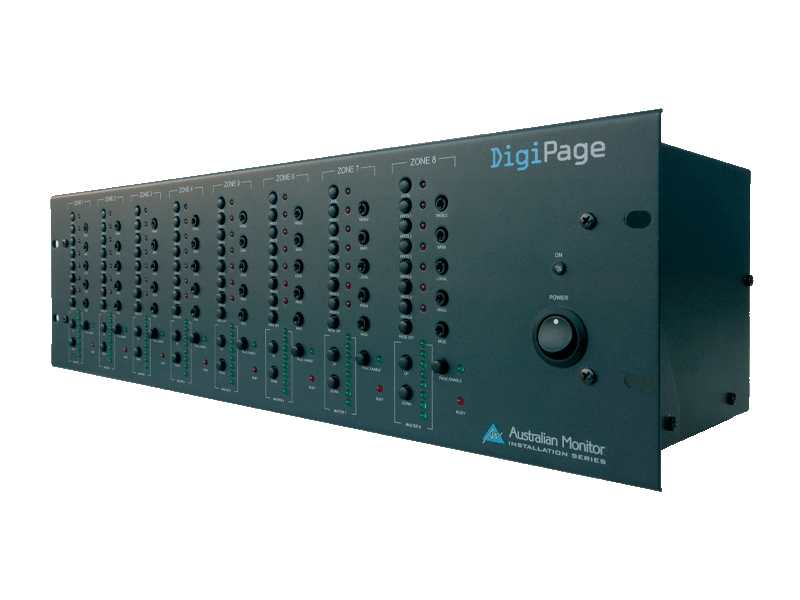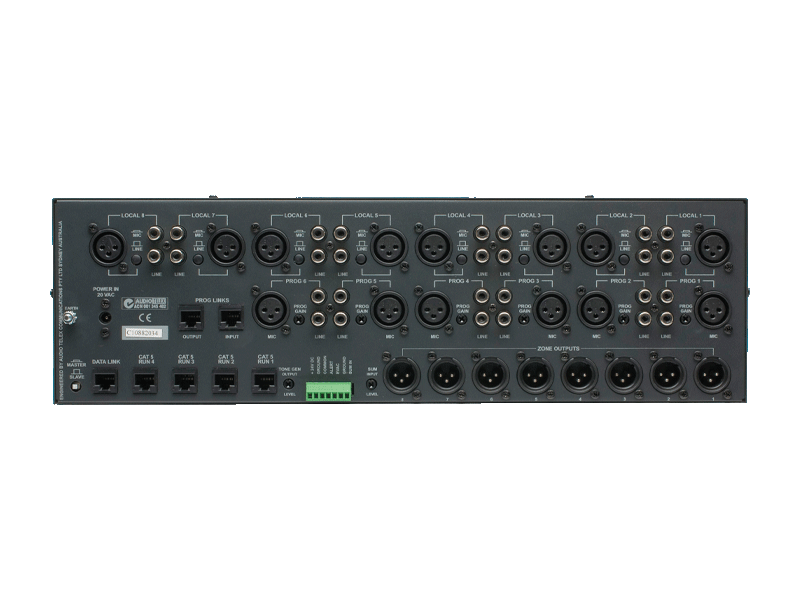 }
DIGIPAGE (DUAL)
Zone paging and BGM system
16 mono zone outputs
Suggested Alternatives - ZONEMIX8
The DIGIPAGE can be linked to a second DIGIPAGE to provide a 6 rack unit multi zone paging and source selection system that offers unprecedented flexibility for multi zone paging and source routing applications. 6 program inputs and one dedicated local microphone/line input are available to each of the 16 zone outputs.
With LED indication for program/local input selection, zone output level, paging enable/disable and network busy, the DigiPage provides extensive status indication to the user. Paging stations are available in 8 or 16 zone models allowing paging into any individual zone, any combination of zones or All Call. Remote control panels are also available, allowing source selection and volume control from within each remote zone.
Both paging stations and remote control panels connect via an inexpensive and industry standard CAT5 cable network. An overall priority input is also provided for emergency or evacuation signals. The DigiPage is an incredibly versatile and well-featured product that provides a simple solution to the complex applications of multi zone paging and source routing.
• 6 balanced microphone/dual RCA line program inputs
• 8 dedicated local inputs (one per output zone)
• 16 Zone outputs
• Capacity for multiple remote paging microphones
• Remote wall panels for source select and Volume control
• Emergency input
• 8 CAT5 ports which are used to connect to remote zone paging microphones DPRM remote panels
• Easy front panel input selection






Yes.
Using the Digipage SUM IN input you can take an audio signal from the Fire panel, or other source, which ducks all Digipage inputs effectively muting them.
If required, you can also attenuate the SUM IN audio down to zero if you wish to pass no audio but still mute the system.
---
choosing a selection results in a full page refresh
Back to the top