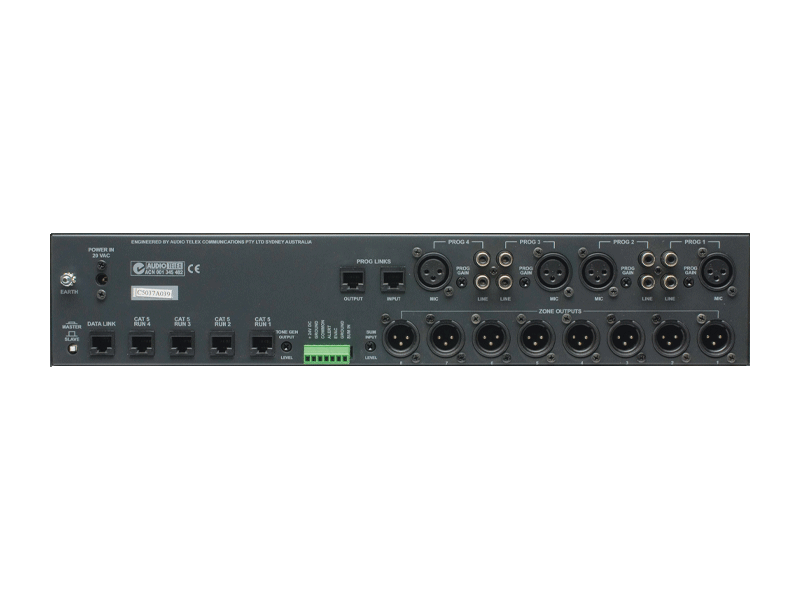 }
DIGIPAGE JUNIOR (DUAL)
Zone paging and BGM system
16 mono zone outputs
Suggested Alternatives - ZONEMIX8
The DigiPage Junior starts as an 8 zone paging system and can be expanded to 16 zones.
The DigiPage Junior is packed with excellent features and is a very cost effective solution for those applications who have neither the budget or the need for the more elaborate features of the DigiPage.
• 8 balanced mic/ Dual RCA line inputs
• 16 Zone outputs
• Capacity for up to 32 remote paging microphones. (Can be increased using remote power supplies)
• Emergency input
• 4 CAT5 ports which are used to connect to remote zone paging microphones
• Alert, Evacuation and Pre Announce Chimes
• Priority Ducking Circuitry
• Easy front panel input selection
• Page 'Enable' per zone allows users to remove the ability to page into certain zones in case that zone does not want to be interrupted. This is generally due to a conference or seminar being held in that zone
• One paging microphone can be set to have ultimate priority over other paging microphones






Yes.
Using the Digipage SUM IN input you can take an audio signal from the Fire panel, or other source, which ducks all Digipage inputs effectively muting them.
If required, you can also attenuate the SUM IN audio down to zero if you wish to pass no audio but still mute the system.
---
choosing a selection results in a full page refresh
Back to the top